Pari - The Studio in Italy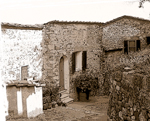 vicolo di Sopra, 17


Not unlike many of the surrounding hilltowns, the tiny village of Pari was orginially a walled town of several hundred persons grouped around a central castle. By the 14th century it came under the control of the Sienese.

Virtually unchanged since the 1400's, the village continues in a remarkable state of preservation. With the coming of the industrial and economic revolution to Central Italy in the 1950s and '60s, and as people left to find work in the cities, Pari's population began to drop until it reached the present population of @150. However, the Pari Center for New Learning, created by visionaries F. David Peat and Maureen Doolan, hopes to position Pari as a conference and learning center, providing the promise of economic stimulation and new vitality to the commune.

The art treasures of Siena, Florence, San Gimignano, Rome and Arezzo are within easy drive from Pari, as are many small medieval villages and the ancient abbeys of San Galgano and Sant'Antimo. Pari is also in close proximity to the Chianti and Brunello wine regions, numerous artesan settlements (i.e., Colle val d'Elsa, famous for its glass; and Volterra, for its alabaster), and only forty minutes from the sea.